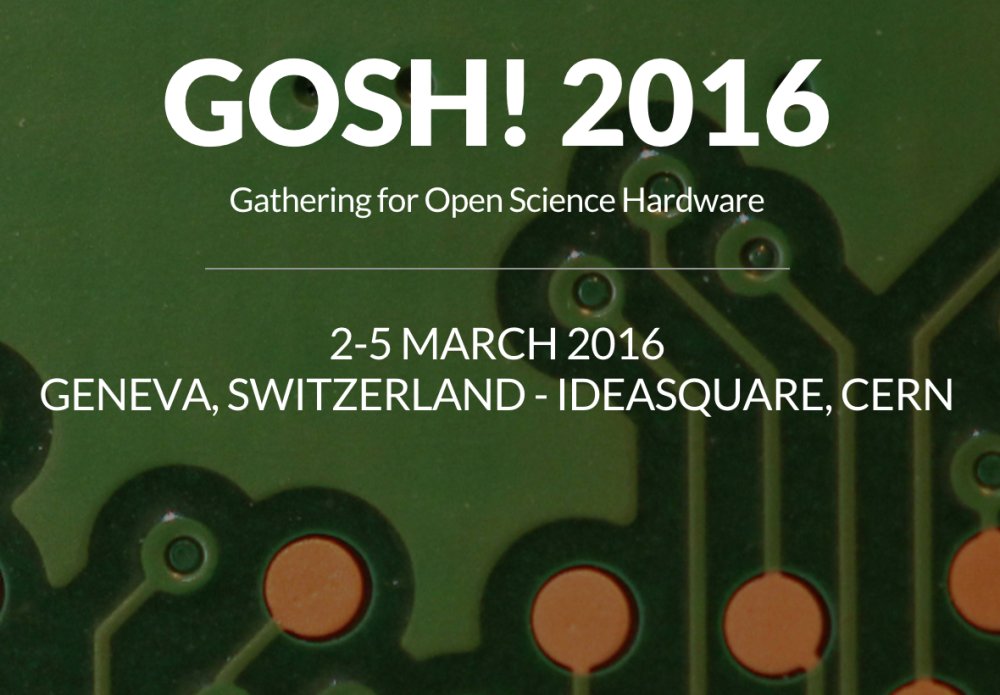 GOSH!2016, Gathering for Open Science Hardware brought an amazing group of practitioners at CERN Idea Square, from 2-5 March. Open Science Hardware was discussed from multiple angles – in accessibility, education, awareness, and diversity in community engagement, as well as the technical aspects, measuring impact… the main motivations and background for the Gathering is summarized here – Why GOSH?
Iyok from Lifepatch was there for all of the gathering, and Robin and Sachiko joined on 4 March, Sharing What We Know – day. We were able to meet and learn from people we have followed online for several years.
Robin and Iyok participated in the Public Lab workshop run by Tony and Gretchen. It was very interesting to hear about their kit design methodology. They focus very strongly on being able to ship easily the kits worldwide, i.e. they design for shipping. To achieve this, they try as much as possible to have only flat parts that all fits in a thin envelope. Thin envelope do not go through custom thanks to international postal agreements. A key element of this strategy is to design boxes and enclosures that flatten out. A very cute way to do this is to use paper origami-like boxes (see the pictures). Robin and Iyok tested the spectrometer kit. Another interesting new kit they showed us is just a bundle of parts that aims at being a common set of elements for kit makers. The kit contains rubber bands, clothespins, tubes, and other bits and pieces. Tony wondered about the universality of such a kit : "Are clothespins used everywhere in the world ?" Finally, it was exciting to learn that they are interested in a fixed water quality monitoring station, the topic of this spring for us at EPFL. They designed for this the riffle, a data logger on a thin PCB that fits in a PET bottle. We'll be in touch!
In another workshop, Tom Igoe from Arduino gave a hands-on demonstration of the new Arduino 101. The new board boasts an Intel 32 bit CPU with integrated Bluetooth low energy and a three-axis accelerometer. The newest IDE support all these features in the no-fuss, easy-to-use Arduino style. We are excited about the possibilities of this board.
Photosynq measures chlorophyll, photosynthesis of plant leaves – and is thinking holistically, including the data collection, project development, and community management as part of the Open Hardware movement. They also are set up to measure other parameters of plant environments and soil and have cuvette holder versions of their device!
In our conversations, we received great feedback from Greg Austic from Photosynq on the arsenic bioreporter and current prototype / device.
2h waiting time for fluorescence to develop, serial readings of single vials – can this be an issue?
Pb (lead) would be great!
Different color reporters for different metals all in one
How can this be dissemination by Public Lab? – think about scale
We met also Puneet Kishor, with whom (Art)ScienceBLR had just done a DIY Laboratory workshop and on-the-street-corner Chembur Public Laboratory together in Mumbai.
We didn't make it, but one of the participants, Max Liboiron wrote up about the dumpster diving session. The day at CERN wrapped up with anyma's Synkie performance, which you can see here.
Then, some people made it all the way over to visit us in hackuarium in Renens.
Nature and Makery wrote up about the Gathering. The other days of the Gathering were full of interesting presentations and break-out sessions. Looking forward to more documentation and synthesis of the discussions coming soon!